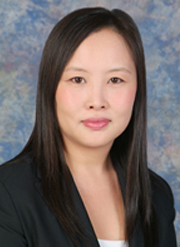 Eline was born in Berlin and raised in Goslar, Germany and received a Bachelor degree in Business Administration and Logistics from the Berufsakademie Baden-Wuerttemberg, Mannheim, Germany in 1999. The theoretical studies were combined with a practical training on the job in the logistics and transportation business at MSAS Global Logistics, Kelsterbach, Germany. After graduation she got an overseas assignment and moved to Hong Kong to start working for Exel Hong Kong Ltd. as Key Account Manager and acted as well as the Personal Assistant to Vice-President of Business Development Asia-Pacific. The task was to be in charge of the company's largest Fashion/Retail customer Esprit with optimizing and managing their supply chain.
Further she was responsible for Exel's Business Development - Germany. The concept of -single point contact-combined with dedicated account management was well established by the year 2000 and set the standard for others. Eline managed retailers, designer fashion and luxury goods such as Escada, Donna Kara New York. She was also developing service procedures for the healthcare industry and established account management processes for Gambro. After seven years of working for the same company (MSAS-Exel Merger in 2000), she wanted to broaden her business knowledge and joined Panalpina Asia-Pacific Ltd. in the regional office in Hong Kong in the function of Regional Head of SME (Small and Medium-Sized Enterprises) in 2003.The objective was to oversee the SME business development. Eline was also assigned to facilitate and monitor the targeted business progress of SME activities based on business plan and budget.
She developed and monitored regional sales campaigns, coordinated business activities and supported the product service development with selected clients and target customers. In 2005, Eline resigned and took a break for the expected baby-boy, joyfully in 2006 she got their 2nd son and the family seems complete now. Beginning 2007, Eline was invited to join BTC Consultant Co. Ltd. in Hong Kong for foreign affairs to contribute in the further expansion of its business to and from Europe. With a wide range of good business contacts from multinationals to small-medium enterprises and deep knowledge of transport & logistics,she does fit perfectly into the BTC team.
Language: German (native), English, Cantonese (spoken)