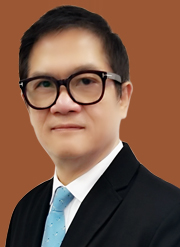 Eric S. S. Wong, CEO of Ericorps Group was born in Hong Kong. He has more than 40 years of business experience in Southeast Asia and European markets. Eric's businesses started from garment manufacturing and gradually expanded and diversified into many others fields.
During the last thirty years of reform and open policy in China, economy has experienced great changes and China has become a powerful country and one of the most attractive markets in the world. Mr. Wong having lived through the amazing changes in Mainland China over the last several decades has gained invaluable experiences conducting businesses there. At this stage, he has established an extensive business network in China and the rest of the Asia region. His profound understanding of these markets enables him to lead the Ericorps Group to grow from its base in China to the global markets and has achieved remarkable results. Mr. Wong's business and cultural backgrounds, his global vision, social skills and organizational expertise make him successful in leading his group.
At present, his group is engaged in various fields including arts & culture, cosmetics, construction materials, eco-friendly foods, biotechnology, consulting, international trading, online marketing and sales, overseas product distribution and brand agency.
---
At present:

Ericorps Group
Chairman

---

BTC Consultant Co., Ltd.
Managing Director

---

King Brand Industrial Limited.
Managing Director

---

ReCon Biometrics Group Ltd.
Managing Director

---

Guangdong Reyzar Technology Corporation Limited.
(Hong Kong office) Chief Executive

---

---

Shenzhen China Capital Network Roadshow investment Co., Ltd.
Honorary Advisor

---

China Capital Network Investment Ltd.
Executive Chairman and Partner

---

Guangdong Junqu Investment & Management Co., Ltd. (Yuhanglong)
Chief Advisor

---

Redtech Holdings Limited.
Honorary Advisor

---

Social Services:

Hong Kong Huaxia Business Associatioin
Chairman

---

Hong Kong Jiangsu Exchange Promotion Association Limited
Chairman

---

United industrial & Commercial Association of China
Honorary President

---

---

Jiangsu Overseas Friendship Association
Council Member

---

Hong Kong Chinese Industry & Commerce Association
Vice Chairman

---

International Justice of The Peace Club
Honorary Advisor

---

Hong Kong International Blockchain & Financial Association
Honorary President

---

Council of China's Foreign Trade
Deputy Director

---

Federation of Hong Kong Jiangsu Youth Ltd
Advisor

---

Hong Kong Association for the Promotion of Peaceful Reunification of China
Council Member

---

Hong Kong Association for the Development of Western China
Honorary Advisor

---

Hong Kong Youth Exchange Promotion United Association
Counselor

---

Youth Network
Advisor

---

China International Painting and Calligraphy Research Association
Advisor

---

Hong Kong Golden Bauhinia International Chinese Painting and Calligraphy Association
Senior Advisor

---

One Belt One Road:

Republica Democratica De timor Leste Gabinete do primeiro-ministro
Senior Assistant of Special Advisor to the Prime Minister for Economic Development Affairs

Investment Promotion Consultant for:

Baoying Economic Development areas in Jiangsu;
Gaoyou City in Jiangsu
LiuKou Demonstration Estate
Nanling County in Anhui
Nanling Gulou District in Jiangsu
Jiangyin Economic Development area in Jiangsu
Jiujiang District in Anhui
Rugao City in Jiangsu
Tang Qiao Town of Zhang Jia Gang City in Jiangsu
Yunfu City in GuangDong
Yancheng City in Jiangsu
Xiantao Industrial Garden in Hubei

Former Social Services:

Jiangsu Youth Federation
Councillor Member
GuangDong Youth Federation
Executive Councillor
China Youth Entrepreneurs Association
Executive Councillor
Language: English, Cantonese (native), Mandarin, Teochew Dialect.

Eric S. S. Wong Endorsements >>