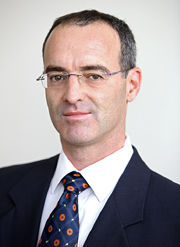 Daniel Weiser is the Founder and Managing Director of DealMakers – Negotiators International, a leading firm in transaction consultation and sales and negotiation training. Since its establishment in 2005, the Firm's clientele includes multinational corporations such as Oracle, Ericsson, Amdocs (sales of $3B in 2010), Elbit Systems Ltd. ($2.7B sales), Iscar ($2B sales), Mercantile Bank and others. Based on Mr. Weiser's 15 years of commercial negotiation experience, he provides C-level consultation on complex high-tech and commercial transactions, executive negotiation coaching for deal management skills and group training for sales and procurement professionals.
Experience - Prior to establishing DealMakers, Mr. Weiser served as VP and Director of Business Development at Lynx Photonic Networks (optical telecom network system vendor) and Internet Gold International (a leading Israeli ISP). He managed M&As, sales, technology transfers and cooperation, strategic suppliers, channels, management buy-outs and more, in the US, China, Korea, India, France, England, Germany, Singapore, Russia, Turkey, Israel and others.
Before his career in high-tech, during the years 1996-1998, Adv. Weiser was a commercial lawyer in two of Israel's most prestigious law firms - Kantor, Elhanani, Tal & Co. and Shimonov, Barnea & Co. Adv. Weiser dealt mostly with international hi-tech, investments and M&A transactions (representing Siemens, Ericsson and various venture capital funds).
Book and Methodology - Mr. Weiser is the author of the book "The Secrets of Negotiation – Deal Design and Management", published by Matar Publishing House, Israel's top business literature publishers. The book describes DDMTM (Deal Design and Management) – a groundbreaking, comprehensive and effective methodology for management of sales and negotiation processes. The book is based on negotiation methods, tactics and experiences of Mr. Weiser and several renowned Israeli executives.
Public appearances – Mr. Weiser appeared in numerous TV interviews. He gave the keynote speech in a recent conference on Women Fort'es in Negotiation held by the Ra'anana Municipality, addressing 250 participants. Mr. Weiser gave a seminar on negotiations at RLN – Yorkshire & Humber (an English NPO promoting international business), is a lecturer at ISEMI (an Israeli education institute for entrepreneurs), and gave a full course on DDM at the Davos Academy (an Israeli college for wealth management).
Education – Mr. Weiser holds an MA, Business Administration (1996), an LLB (1996) and a BA, Business Administration and Psychology (1992), all from the Hebrew University in Jerusalem.
Personal – Born in New York, USA (1965), Daniel resides in Israel and is married, a father of four, a holder of a black belt in karate and a ski instructor. Mr. Weiser performs reserve duty as a Major in the Intelligence Corps, IDF.
Languages: English.