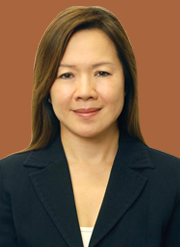 Rosana had extensive experience in the apparel industry with focus in N. America market. She headed a buying office in Hong Kong for 15 years serving multiple causal wear brands in Canada and USA.

During her career in managing the buying office, Rosana worked with various production bases in Asia including China, Hong Kong, India, Korea, Taiwan and Thailand. She successfully served as a bridge between her N. America counterparts and her strategic production partners in Asia; building a solid connection of global sourcing and production networks for all her business affiliates.

Rosana also had valuable experience in the retail industry. She facilitated in setting up retail outlets in China for 2 Canadian and 1 European labels during 2004. In 2007, she managed a crucial floor of a leading department store in Hong Kong with monthly turnover in 9 digits HK dollar.

Rosana was educated in Canada. She received her Bachelor of Arts degree, major in economics, from University of Toronto. In 2008, Rosana received her Master of Business Administration degree from Ivey Richard School of Business. Rosana is also a Graduate Gemologist, title granted by the jewelry market leader, the Gemological Institute of America.

With her cross cultural education and business background, Rosana was invited to be an Associate Director for BTC to further enhance business opportunities between the East and West.

Languages: English, Cantonese (native), Mandarin.